Elizabeth Kirschner
Memoir
A beautiful memoir by noted a noted poet.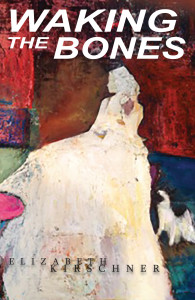 "Elizabeth Kirschner is a poet of the very first order, and in this luminous, captivating memoir, she weaves poetry and prose into something transcendent and heartbreakingly beautiful. It is rare to see a writer with all their talents on display at one time like this."
-Susan Conley, author of Paris Was the Place and The Foremost Good Fortune
"Waking the Bones is a vivid and haunting memoir about love and loss; more precisely, it's powerful, lyrical testimony about how love and abuse can mingle in a deeply dysfunctional family until every emotional defense breaks down into madness or near-madness. It's also about recovery and the salvage operation that rescues sanity and makes survival, and perhaps even happiness, possible. A marvelous book; I highly recommend it."
-Alan Davis, author of So Bravely Vegetative and Alone with the Owl.

$13 plus $2 shipping