By Charles Underwood, Jr.
Military History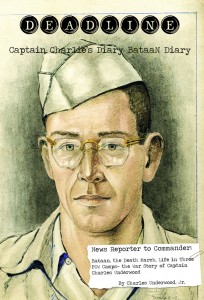 News reporter to commander: Bataan, the Death March, three POW camps- the war story of Captain Charles Underwood. A Story untold for more than sixty years! There are thousands of U.S. soldiers who have never been properly recognized for their actions during the Second World War. This is the story of one of them. Charles Underwood was a young reporter when he was called up to active service in the Philippines. He survived the infamous Death March, and spent over three years as a prisoner of war in Japan, at the end of which time he boldly commandeered a train and traveled through hostile territory to reach the U.S. lines. He is credited with helping to liberate more than seven hundred starving POWs. Using his father's long-forgotten journal as a starting point, Charles Underwood, Jr. has done extensive research to bring to life the important part of American military history.
You can see scans of original documents that are contained in the book here.

$16.99 plus $3.00 shipping