by Katherine Towler
Fiction
Snow Island
Published in 2002 by McAdam/Cage, Snow Island was chosen as a Barnes and Noble Discover Great New Writers title, a Borders Original Voices title, and an Indiebound selection.
It depicts life on a small island in the first half of the 20th Century, and tells the story of George Tibbits, a WWI vet who visits Snow Island every year.  It also tells the story of Alice Daggett, a teenager struggling to come to terms with her father's death while managing the family store.
As the country is drawn into World War II, George and Alice find their fates shaped by events that occur far from the island home that defines them.
Visit KatherineTowler online at www.katherinetowler.com

$15.99 plus $3.oo Shipping
Evening Ferry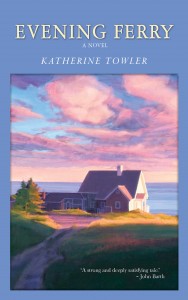 Katherine Towler returns to Snow Island with Evening Ferry – the second installment of her multigenerational trilogy about family bonds, unexpected love, and the threat of war. Thirty-two-year-old Rachel Shattuck grew up on Snow Island but left at the age of eighteen, anxious to escape the confines of the isolated community.
Living on the mainland, just a short ferry ride away from Snow, she struggles to adjust to being divorced while grieving the recent death of her mother. In the summer of 1965, she returns to Snow Island to care for her injured father and discovers her mother's diaries hidden in a closet.
Reading Phoebe Shattuck's account of her life as a wife and a mother, Rachel learns the truth about her family's history, her mother's death, and her own aspirations to lead a new life.

$15.99 plus $3.00 Shipping
Island Light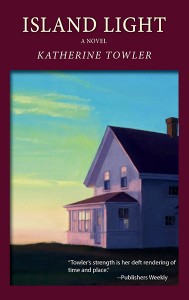 A Vietnam veteran in his early 40s, a lesbian in her 70s, and a young photographer find their lives unexpectedly linked after a fire sweeps through an old mansion.
Set in the fall of 1990, as the United States prepares to go to war in the Persian Gulf, the final volume of the Snow Island Trilogy brings together characters from the previous volumes with new arrivals in a moving conclusion.

$15.99 plus $3.00 Shipping