by Cynthia Lott
Book Two of the Southern Spectral Series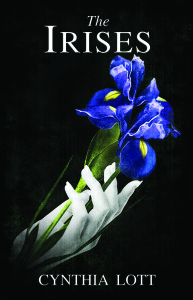 Read the first chapter here!
In 1979 New Orleans, detective Roy Agnew is thrown into another murder investigation. Re-entering the world of the supernatural, he realizes that he may be the only person able to stop a killer. In order to catch a paranormal murderer, Roy must rely on the one thing he struggles with the most: his faith.
Advance Praise for "The Irises":
"In her sequel to 'The Feathers', where wicked winds and evil tear through New Orleans, Cynthia Lott gives us another bolt of literary lightening. 'The Irises' is an electric tale of the supernatural, of murder at an old cemetery, of a demonic being who lays wait in a funeral parlor he calls home, and where the unsuspecting proprietors of a modern day business find that present day life is as much a part of history, as is each corpse they embroider with their craft.
Set in 1979 New Orleans, this is a brilliant and frightening return to yet another harbored vendetta unrequited; to a place where the living are not welcome, and where the dead are as much a part of life as the petals and the fireflies around them.
Come with Roy as he struggles to create a life without Brenda, tries to find reason why she left him for the unknown, and where he must resolve his jealousy for a long dead suitor. Join him as he embarks on assignment with his flawed new partner, Jake LaRocca, and where he must face yet another series of bizarre and violent occurrences, where potions, spells and seances are the only weapons he has. This is a yarn about police work without convention, where good old fashioned investigation is done in a library, not an interrogation room, and where assistance comes from quite an unsuspected source. Betwixt the horror of evil and the corruption of decency, rests yet another love story, a glance to Roy's past with a nod to his future. Lott is a master of the juxtaposing life forces ~ of good versus evil, of death versus birth and renewal.
'The Irises' is the perfect sequel to a stunning first novel, rife with intrigue, suspense, and paranormal brutality, all cradled within elegant visions of love and hope, and adorned with the charms of humanity and the instruments of darkness. Brace yourselves, this is a quintessential beating pulse, a reminder that just when you snuggle into bed to read, there waits a monster." –David Marks

$15.00, free shipping!