Ben Schwartz
Silver Medal Winner of the 2014 Piscataqua Press Novel Contest, chosen as one of the best three manuscripts from more than 100 submissions.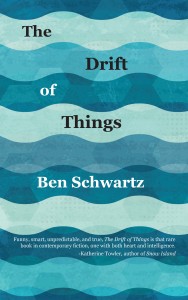 "Funny, smart, unpredictable, and true, The Drift of Things is that rare book in contemporary fiction, one with both heart and intelligence. Benjamin Schwartz has delivered a cast of characters so real you expect to find them watching TV in the living room. In a beautifully-crafted story about what remains broken and yet healed in all of us, Schwartz has established himself as a writer to watch." -Katherine Towler, author of Snow Island
Norman Mean, age 30, is drawn back to his hometown to attend his mother's funeral. Norm left immediately after high school to escape the everyday reminders of a tragedy he considers to have been his fault, and he has no intention of staying. However, his concern for his father's wellbeing, and a general inertia lead him into an unusual teaching job at his old school. And there's this girl…
Marked by razor-sharp dialogue, The Drift of Things is complex, witty, and sad, with an unforgettable father and son duo at its core.
Ben Schwartz lives in New Hampshire with his wife and two boys. For a very long time now, he has been an English and Special Education teacher at a High School and an Alternative School. Ben received his MFA at Southern New Hampshire University, where this novel was his thesis.

$15.00 plus $3.00 shipping