Written By Deby C. Gervais  Illustrated by Ellen Topitzer
Hardcover Picture Book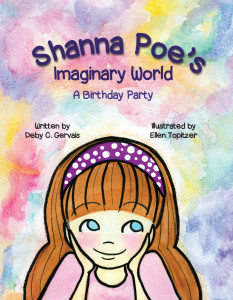 Shanna has a friend named Irga.  Shanna loves to play with Irga. Until today, Irga has been Shanna's secret imaginary friend.
Today is Shanna's fifth birthday. Shanna's friends are coming to lunch to celebrate, with presents and cake too. Also, a magician is coming as a big surprise for Shanna and all her friends. SHH, don't tell!
Shanna wants Irga to be at her party too. Shanna is so happy. It is going to be a Very Special Day!

$19.99 plus $3 Shipping