Viginia DeLuca
Winner of the 2014 Piscataqua Press Novel Contest!!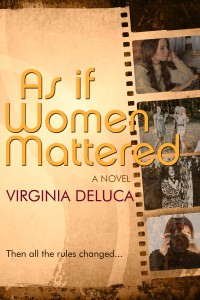 1972 – A time of war and Watergate, of Ms. Magazine and consciousness raising. As the post-World War II era of peace, prosperity, and pointy bras gives way to the life-expanding changes of the women's movement, four women meet and over the course of two decades, create a space that allows them all to thrive, with humor and irreverence, as they each struggle to reconcile the realities of adult life with the expectations of youth.
We picked this novel from over 100 entries as the winner of our novel contest, and we are here to tell you: It's Terrific!
"Virginia DeLuca's captivating novel, As If Women Mattered, fuses compelling social drama with page-turning storytelling. Four women, whose consciousness-raising group becomes a life-long, life-saving family of the heart, wrestle with marriage, motherhood, careers and sex, during a time when no one knew the rules anymore, and it was all up for grabs. The entwined stories of these women will keep you up way past midnight, experiencing the extraordinary era when women rose up and found their voices, and each other."   –Randy Susan Meyers, International Bestselling Author of The Murderer's Daughters and The Comfort of Lies
Virginia DeLuca has published short stories in The Iowa Review and Currents Anthology, and has won several prizes for fiction, including the Seacoast Writing Association and the 2011 Pirates Alley William Faulkner Wisdom Competition. She coauthored the nonfiction book, Couples With Children, and has contributed articles about parenting to various magazines. Ms. DeLuca is currently the director of a violent-offender program in Maine. Throughout her career, she has worked primarily in violence prevention and intervention, assistingwomen of all ages as they struggle to change circumstanes in their lives. This work informs her novel. She lives in Durham, New Hampshire.

$12.99 plus $3.00 shipping