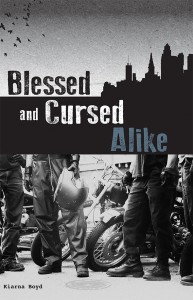 by Kiarna Boyd
A city where magic can lead to murder.  A company of adrenaline-addicted motorcycle couriers.  A dark occult conspiracy.  These threads converge in Blessed and Cursed Alike, an occult murder mystery set in a mythic urban landscape.
Rebecca Cox, author of A Quiver for Lapsed Romantics and minutelovestories writes: "A cinematic literary expedition, Boyd's Blessed and Cursed Alike is the sublime bastard child of The Transporter, The Girl with the Dragon Tattoo, and Orwell's haunting 1984. A wild ride, indeed."

$16.99 plus $3.00 shipping.