James Fleck
Paperback Picture Book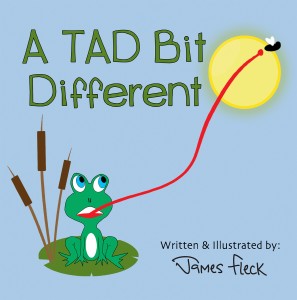 Is there something "different" about you?
Have you ever been worried that you would be embarrassed if your friends found out about it? That's Tad's trouble. Tad's a frog, and one day his secret comes out. Will his friends still like him? Will he find new friends?
James Fleck is an artist who has lived in New Hampshire his entire life. His book "A Tad Bit Different" was created at the age of 12 years old, as a picture book for a elementary homework assignment. He has since turned into the book you are reading today. In James's spare time, he is a freelance artist/graphic designer who loves the outdoors and spending time with his wife Sarah and daughter Janell Rose.

$9.99 plus $2 shipping