By Darcy Cunningham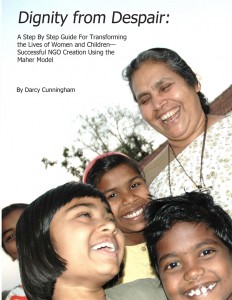 There is a worldwide rapid awakening to the profound need for communities to act to protect and heal our most vulnerable citizens, women and children. A horrific rape in Delhi, a gang rape in US videoed to classmates, a Pakistani girl shot for the crime of seeking an education, these cases and more have galvanized public outrage and led to a global outcry for practical solutions. We simply cannot wait for government solutions to fix what ails our world.
Maher is one proven model of community-based action with sixteen years, over 2500 women and nearly 2300 children, and overwhelmingly successful outcomes. This book comes along at just the right time to detail how to replicate Maher's success, whether in its home in India, or in Africa, Southeast Asia, or even in the West. From envisioning an organization, to space design, to staffing, to dealing with challenges, there are plans, tips, lessons learned, and case studies from Maher, even templates for budgets, admissions records, etc. There is enough detail to save having to reinvent the wheel, plus guidelines to support each organization to develop uniquely, thereby able to fit into its own local context.
$24.95 plus $3.00 shipping
U.S. Customers can order via Paypal at the bottom right of this page.
For bulk orders or overseas orders please contact us at info@riverrunbookstore.com
Thanks!